Me & Al & My Life
So I was a freshman at The Ohio State University, and lied about my residence status so that I could avoid living in a dorm, and instead live with my lifelong friend and Cleveland neighbor Tommy Philip and some guys he knew. That's how the Al thing began. So I moved into West Maynard with Al Sciarappa, Kim Greene, & Tommy Philip, and Johnny Kochmit, who later shot himself, and in the transition also some Weatherman guy (you should Google that one if you don't know what a Weatherman in the 60's was) and there was a guy named John Lennon and his sister Jo somewhere in the background, and another Italian kid named Paul Zarella, who was pretty edgy, and some others around. I was 17, and seriously, missed my first college class ever because I was all hungover-ass on Boone's Farm Apple wine. And I was hanging with significantly radical dudes.
I had no warm-up for this life. None.
Anyway, so Al was all Afro'd to hell, from Revere, Mass, I think, Kimbo (Dayton, O) hair past his shoulders, Johnny (Cleveland, grew up next to a cemetery) focused on smoking a righteous cigarette, and I was just like, OK, this is cool…
Kimbo joined the Krishnas, and we would go to the Krishna temple on 14th Avenue or so, me 17 years old, and argue with Saddhus, and feel really smart, though we were stupid, and still all parties liked each other, and we ate free rice, and it was beautiful, and life was good.
Al talked Revolution, but I think more from a philosophical point of view than an impassioned one. I was 17 and Al says "The question is, when the Revolution comes to your door and says 'Shoot your parents', are you in or not?" I had to offer some variation of "Lemmee get back to you on that one", because I did not know about the Revolution, or the difficult options it would offer. I just didn't know what to say, though I could not really imagine that shooting my parents was a good idea. We read Jerry Rubin, Abbie Hoffman's "Steal This Book", the Upanishads, and other cool stuff…
We smoked forty million cigs, and then in the morning smoked the shorts, and we tried to figure this all out…It was 1971, Man…Al never would have shot his parents either, but he was the first Intellectual I had ever really known, so you had to take his questions seriously…

We played guitar, sang Neil Young, America, Cat Stevens, Joni Mitchell (though we did not yet understand open tunings), and so on. My life changed beyond my wildest imagining, and even in the moment, I did not get it, but that was OK too…We read the Baghavad Gita, Soul on Ice, Bobby Seale, Pedagogy of the Oppressed, Richard Brautigan, Hermann Hesse, Kerouac, Kahlil Gibran, and the Autobiography of Malcolm X.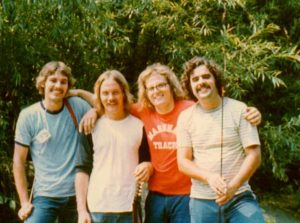 There WAS one morning when I said to Kochmit "You know, once you know some of this stuff, you can't un-know it", and we both knew that was scary as shit, because we had awakened to some things that were really, really revolutionary, and we had no idea how this was going to work out. And actually, it did NOT work out for John, because he killed himself, but the rest of us kept trying to make sense. The fact that John left the planet in his twenties is still one of the most haunting experiences of my life…
Oh and by the way, Al had met Kathy in Professor Vander Zanden's class, and she was then part of the whole thing too, and so we all had a lot to figure out, and a lot of mystery to unravel, and lot of questions to answer, pretty directly related to Albert Camus' infamous declaration: "There is only one really serious philosophical question, and that is suicide." And we were, like, in our twenties. Hell, not even. WTF. That, too, was one of the most haunting experiences of my young life, then…
We had to carry on….
And we carried on…
We all exploded all over the globe, Kim and Nancy (his eventual wife) to New Guinea, Australia, Saudi, Seoul, and lord knows where else. Tommy stayed in Columbus, Ohio, and John was gone—shot himself in his parents' garage. Ah, damn, we loved that guy…Al and Kathy moved to New Hampshire, and I moved to Santa Barbara, first stop of a life on the road…
Decades passed…We all did shit…Al and I both became Psychologists.
So along that way, Al and I have also since gone together to Boston, New Hampshire, Maine, San Francisco, Austin, Texas, Santa Fe, Taos, New Orleans, Key West, Cancun, and later this year, we will add Cuba.
He has kids, I don't. He and Kathy both earned doctorates, despite the Camus challenge. We have hung at Hampton Beach, at Lake Winnepesaukee, at Mirror Lake, along the Presidential Range in NH, and lord knows where else.
We have lived life good.
Al and I decided that every year from 3 years ago until we croak, we are going to go somewhere and rock it. We started with New Orleans (Oh, Baby Jesus), then Key West, and last year, Cancun. It was a great decision to do this…One of the best of my life…
As I mentioned, Al is a Psychologist, and is the second hardest-working person I know (he used to be first….) Now I am the hardest working person I know. So we go and do these crazy things, take a step back, look at our lives from 36,000, and laugh like hell, and decide not to kill ourselves, for now, but to order another rusty nail, and see how things go…
I am blessed to know Al, and to have passed 40 plus years together, no longer trying to figure anything out, because we now know that is a fool's errand. We just be.
And it is good. And soon we will be in South Beach, then Cuba, old Havana, some beaches, Hemingway's haunts. It will be good. It will be real good.
Jim
about the moderator